The purpose of this document is to ensure that all risks associated with Hazardous Chemicals are managed to prevent harm to personnel. This is accomplished by means of a comprehensive hazard communication program, which includes Container labeling and other forms of warning, Safety Data Sheets (SDS) and personnel training.
This chapter applies to all South Dakota Science and Technology Authority (SDSTA) personnel, Users and Contractors/Subcontractors. This chapter applies to all SDSTA activities at SURF that expose personnel to Hazardous Chemicals.
The following Chemicals/Substances are regulated by separate agencies and are not included in the scope of this chapter:
Hazardous Waste (as defined by Resource Conservation and Recovery Act)
Articles
Wood or Wood Products
Food or Alcoholic Beverages
Drugs
Cosmetics
Consumer Products (as defined by the Consumer Product Safety Act and Federal Hazardous Substance Act)
Biological Hazards
Ionizing and Non-Ionizing Radiation
Article: A manufactured item (1) which is formed to a specific shape or design during manufacture; (2) which has end use functions dependent in whole or in part upon its shape or design during end use; and (3) which does not release a toxic chemical under normal conditions of processing or use of that item at the facility or establishments for example: bolts, pens, bottles, screws, etc. Articles do not require a corresponding SDS sheet.
Container: Any bag, barrel, bottle, box, can, cylinder, drum, reaction vessel, storage tank, or the like that contains a Hazardous Chemical.
Hazard Analysis: Is the process of deciding what might be a hazard, and what should be done if someone or something is exposed to this hazard. It Is the first step to assess risk and used as a tool to aid in work planning and control.
Hazard Class: Describes specific hazardous property(s) of a Hazardous Chemical. Each of these classes has chemical specific information found both in its Safety Data Sheet and on its manufacturer's label that includes:
A pictogram
A signal word
A hazard statement
A precautionary statement
The name, address and phone number of manufacturer or distributor
Hazardous Chemical: Any chemical which can cause a physical or health hazard.
Hazard Rating: A system put forth by the National Fire Prevention Association (NFPA) containing color codes that correspond to a specific hazard. This information is used by emergency personnel when responding to an incident.
hazMIN®: A web-based database that manages and provides immediate access to SDSs.
Immediate Use: A Hazardous Chemical that is under the control of and used only by the person who transfers it from a labeled Container and only within the work shift in which it was transferred.
Non-Routine Tasks: Jobs that are performed irregularly or being performed for the first time.
Safety Data Sheet (SDS): A standardized form containing facts, specific properties and potential hazards of a substance.
Secondary Container: Any Container holding a product which is not the original Container supplied by the manufacturer. Secondary Containers can hold chemicals that are transferred from an original Container.
Secondary Containment: Any system, device or control measure that is used to stop a discharge from leaving a specified area.
Work Planning and Control: Systematic process for determining methods for completing an assigned task safely and efficiently. The process includes:
Defining the work to be performed
Methods for performing the work
Hazard analysis
Pre-job briefing
Work authorization
Supports the implementation and enforcement of the Hazard Communication Chapter.
Ensure on-site personnel are informed concerning:
The presence of the Hazard Communication Chapter.
The requirement of SDSs for each Hazardous Chemical on-site.
The procedure for bringing a Hazardous Chemical on-site (see Appendix B).
The training requirements for those exposed to Hazardous Chemicals.
The labeling requirements for hazardous materials.
Accessibility of SDSs.
4.3 Managers, Supervisors , Contractors, and Project Managers‌
Ensure employees are trained on accessing SDSs and understand the SDS sections.
Ensure employees understand and are knowledgeable of the chemical hazards used or exposed to within their work area.
Ensure that Hazardous Chemicals are approved and the corresponding SDSs are submitted prior to being brought onto the site (see Appendix B).
Know how to read and explain the hazards presented on the SDS (see Appendix A).
Regularly review inventories of Hazardous Chemicals in their work area to determine if the chemical has a corresponding SDS in the hazMIN® database.
Notify ESH with updated information on Hazardous Chemical location.
In the event a Hazardous Chemical is relocated, review its hazards with newly affected personnel and notify ESH of the expanded usage.
4.4 On-Site Personnel/Workers‌
Review SDS documents for Hazardous Chemicals in their work area:
Understand the risks associated with the Hazardous Chemical they may be exposed to.
Know the hazards and symptoms of Hazardous Chemical exposure present in the work area.
Know how to access SDSs electronically and/or via hard copy format.
Follow the appropriate measures specified in the SDSs.
Know how to read and apply the information on labels.‌
4.5 Environment, Safety and Health Department
Review SDSs for completeness, Hazardous Chemical management, and waste disposal considerations.
Ensure there is a current printed list of Hazardous Chemicals on-site located in the Environmental Manager's office.
Approve Hazardous Chemicals for on-site use.
Approve SDSs for incorporation into the hazMIN® database.
Review and update the Hazard Communication Chapter on a scheduled basis.
Responsible for the development and maintenance of training materials.
5.0 PROCEDURES AND REQUIREMENTS‌
5.1 Hazardous Chemical Management‌
Hazardous Chemicals shall be managed in accordance with information provided in the SDSs or as otherwise specified by the ESH Department.‌
5.2 Approval of Hazardous Chemicals
    5.2.1 All Hazardous Chemicals at SURF shall be approved by the ESH Department prior to arrival on-site. To receive approval, the following information must be submitted to ESH (see Appendix B):
The Hazardous Chemical's current SDS.<
The approximate amount of the Hazardous Chemical to be used on-site.
The location of the Hazardous Chemical usage.</li>
    5.2.2 Chemicals used in experiments (including compressed gases and cryogenic materials) must be approved by ESH and added to a chemical inventory before they can be brought onto SURF property. The inventory shall include the name of the responsible person, arrival date at SURF, storage information (quantities, locations and containment descriptions) and an indication of whether the chemical is considered hazardous waste. Approved chemicals must have a recent Safety Data Sheet (SDS) on file. SDSTA maintains an inventory template for chemicals.>
    5.2.3 A Hazardous Chemical may be rejected or restricted based on certain hazardous attributes, quantity request, location or because the SDS does not conform to regulatory standards.
5.3 Hazardous Chemical Transportation and Storage‌
An approved Hazardous Chemical may be transported from one work area to another at SURF provided all affected parties are aware of the chemical movement.
    5.3.1 Surface transportation and storage shall be as follows:
Quantities greater than or equal to 119 gallons (450 liters) of a Hazardous Chemical are to be stored and transported in Secondary Containment and in Department of Transportation (DOT) compliant packaging.
Quantities less than 119 gallons (450 liters) should be transported in DOT compliant packaging. If packaging is not DOT compliant and the potential for a spill exists, transport must include Secondary Containment.
    5.3.2 Underground transportation and storage, including transportation via shaft, shall be as follows:
Hazardous Chemicals five gallons (19 liters) or less are to be transported and stored in DOT compliant packaging or as otherwise specified in the SDS.
Hazardous Chemicals greater than five gallons (19 liters) must be transported and stored in Secondary Containment.
Flammable, self-heating, and pyrophoric materials are not allowed underground except in limited circumstances requiring special approval by ESH. Refer to the SDS to determine the specific hazard class.
5.4 Hazardous Chemical Awareness‌
    5.4.1 A list of the Hazardous Chemicals known to be present at SURF is located on the hazMIN® database and can also be provided by the ESH Department.
    5.4.2 Personnel exposed to a Hazardous Chemical in a work area shall be informed of its hazards in accordance with this Chapter.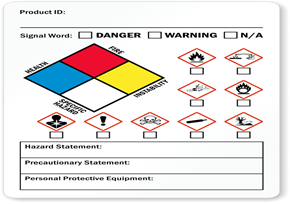 5.4.3 All personnel at SURF will be provided access to SDSs, informed of precautionary measures needed to protect themselves and apprised of the labeling system used on-site.>
    5.5.1 Container holding a product which is not the original Container supplied by the manufacturer shall be labeled using the label shown in Figure 1. This label is available at the SURF Warehouse and the ESH Department.
    5.5.2 Each Hazardous Chemical label at SURF shall be completed with the following information that can be found on the product's corresponding SDS:
Product Identifier: describes how the Hazardous Chemical is identified. The identifier on the label must be the same name as on the SDS.
Signal Word: indicates the relative level of severity of the hazard and alerts the reader to a potential hazard on the label. There are only two signal words, 'Danger' and 'Warning.'
DANGER identifies chemicals and products that present a great, often immediate hazard, to the person handling the chemical.
WARNING identifies chemicals and products that present a lesser, but still potentially harmful, degree of hazard.
Hazard Statement: describes the nature and degree of the hazard(s) associated with the chemical.
Precautionary Statement: describes recommended measures that should be taken to minimize or prevent exposure to the Hazardous Chemical or improper storage/handling.
Pictograms: aid in visualizing the hazard. The nine pictograms are shown in Figure 2.
Hazard Rating: Alerts emergency personnel of a potential hazard using a system shown in Figure 3 and described below.<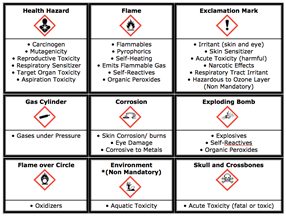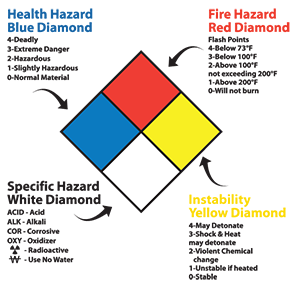 The five ratings range from 4 to 0, with 4 being the most severe and 0 posing the least risk. The number in each inner quadrant represents the Hazard Rating for each of the 3 categories. Each material is assigned a rating in these three categories: health (blue), flammability (red), and instability (yellow). The white box is reserved for special hazards such as water reactivity, oxidizers or simple asphyxiant gases. The health, flammability, and instability ratings of a material vary according to its physical and chemical characteristics.
    5.5.3 SURF does not require a SURF Hazardous Chemical Label to be placed on portable Secondary Containers that are intended for Immediate Use, however the contents must be indicated on the container.
    5.5.4 Pipes and tanks containing Hazardous Chemicals shall also be labeled. Space considerations often limit information on these labels to an identifier name.
    5.6.1 The SDSs of all approved Hazardous Chemicals on-site shall be readily accessible during each work shift. The SDS's are entered and maintained in the hazMIN® database for access in internet capable locations. In work areas lacking internet capabilities, hard copies of SDSs must be present.
    5.6.2 In addition to providing a chemical inventory to SDSTA, a separate database shall be maintained by science users for each of their experiments.
    5.6.3 SDSs shall be a component of the Hazard Analysis for each task associated with Hazardous Chemicals and must be reviewed prior to performing the task.
    5.6.4 The SDSs at SURF are made up of 16 sections as described below:
SDS Section

SDS Heading

Specific Information Elements

1

Identification

Product identifier (e.g. Product name)
Other means of identification (e.g. product family, synonyms, etc.)
Recommended use
Restrictions on use
Supplier identifier 

Name, full address and phone number(s)

Emergency telephone number and any restrictions on the use of that number, if applicable.

2

Hazard Identification

Hazard classification (class, category or subcategory) of substance or mixture or a description of the identified hazard for Physical or Health Hazards Not Otherwise Classified
Label elements: 

Symbol (image) or the name of the symbol (e.g., flame, skull and crossbones)
Signal word
Hazard statement(s)
Precautionary statement(s)

Other hazards which do not result in classification (e.g., molten metal hazard)

3

Composition/

Information on Ingredients

When a hazardous product is a material or substance: 

Chemical name
Common name and synonyms
Chemical Abstract Service (CAS) registry number and any unique identifiers
Chemical name of impurities, stabilizing solvents and/or additives*

For each material or substance in a mixture that is classified in a health Hazard Class**:

Chemical name
Common name and synonyms
CAS registry number and any unique identifiers
Concentration

NOTE: Confidential business information rules can apply

4

First-Aid Measures

First-aid measures by route of exposure: 

Inhalation
Skin contact
Eye contact
Ingestion

Most important symptoms and effects (acute or delayed)
Immediate medical attention and special treatment, if necessary

5

Fire-Fighting Measures

Suitable extinguishing media
Unsuitable extinguishing media
Specific hazards arising from the hazardous product (e.g., hazardous combustion products)
Special protective equipment and precautions for fire-fighters

6

Accidental Release Measures

Personal precautions, protective equipment and emergency procedures 
Methods and materials for containment and cleaning up

7

Handling and Storage

Precautions for safe handling
Conditions for safe storage (including incompatible materials)

8

Exposure Controls/
Personal Protection

Control parameters, including occupational exposure guidelines or biological exposure limits and the source of those values
Appropriate engineering controls
Individual protection measures (e.g. personal protective equipment)

9

Physical and Chemical Properties

Appearance (physical state, color, etc.)
Odor
Odor threshold
pH
Melting point/Freezing point
Initial boiling point/boiling range
Flash point
Evaporation rate
Flammability (solid; gas)
Lower flammable/explosive limit
Upper flammable/explosive limit
Vapor pressure
Vapor density
Relative density
Solubility 
Partition coefficient - n-octanol/water
Auto-ignition temperature
Decomposition temperature
Viscosity

10

Stability and Reactivity

Reactivity
Chemical stability
Possibility of hazardous reactions
Conditions to avoid (e.g., static discharge, shock, or vibration)
Incompatible materials
Hazardous decomposition products

11

Toxicological Information

Concise but complete description of the various toxic health effects and the data used to identify those effects, including: 

Information on the likely routes of exposure (inhalation, ingestion, skin and eye contact)
Symptoms related to the physical, chemical and toxicological characteristics
Delayed and immediate effects, and chronic effects from short-term and long-term exposure
Numerical measures of toxicity, including acute toxicity estimates (ATEs)

12

Ecological Information

Ecotoxicity
Persistence and degradability
Bio-accumulative potential
Mobility in soil
Other adverse effects

13

Disposal Considerations

Information on safe handling for disposal and methods of disposal, including any contaminated packaging

14

Transport Information

UN number
UN proper shipping name
Transport Hazard Class(es)
Packing group
Environmental hazards
Transport in bulk, if applicable
Special precautions

15

Regulatory Information

Safety, health and environmental regulations specific to the product

16

Other Information

Date of the latest revision of the SDS
* These impurities and stabilizing products are those that are classified in a health Hazard Class and contribute to the classification of the material or substance.
** Each ingredient in the mixture must be listed when it is classified in a health Hazard Class and is present above the concentration limit that is designated for the Hazard Class in which it is classified or is present in the mixture at a concentration that results in the mixture being classified in any health Hazard Class.
    5.7.1 New employees and Users shall receive general hazard communication training through the General Safety Basic class. Refresher classes are offered through Annual Refresher Training. This training shall include the following:
The requirements of the Hazardous Communication Chapter
An explanation of the SDSs
The labeling system
Where Hazardous Chemicals exist
    5.7.2 Personnel exposed to a Hazardous Chemical for a task related activity shall be trained in the following:
Methods and observations that may be used to detect the presence or release of a
Hazardous Chemical in the work area
The physical, health and other hazards associated with the chemicals in the work area
The controls employees should take to protect themselves from the hazards of a chemical
    5.7.3 Through SURF's Work Planning and Control process, personnel working in or near unlabeled tanks and pipes or performing Non-Routine Tasks shall be trained to the hazards associated with the work.
    5.7.4 Training on a chemical hazard that is specific to a task is a requirement of SURF's Work Planning and Control process. SDSs of a task specific chemical are a component of the Hazard Analysis and will be reviewed prior to the commencement of the task with all affected workers.
6.0 REFERENCES AND RELATED DOCUMENTS‌
6.1 References:‌
29 CFR 1910.1200 Hazard Communication Standard for General Industry
26 CFR 1926.59 Hazard Communication for the Construction Industry
NFPA 704: Standard System for the Identification of the Hazards of Materials for Emergency Response
SURF Work Planning and Control Chapter
Appendix A Hazard Class Details
Appendix B SURF Chemical Approval Flowchart